The Gift of Grace series has always been good. This young adult series was rated as a hidden gem by reviewers as soon as it was released.

It's had some problems, though. Not in terms of the quality of the books–we still believe it's some of the best urban fantasy out there. But in terms of publishing and marketing. Which, let's face it, we weren't great at.

We've learned some things, though.
In the Beginning of the Young Adult Series
In 2019, we managed to reclaim the rights from our previous publisher and re-launch the Gift of Grace series under the Impulsive Walrus Books imprint. We re-did the covers, we re-polished the text, and we re-introduced the world to the magic, suspense, and action that our characters go through in this young adult series. We saw sales off of this, and good ones…but as most of our fans already owned the first edition of these young adult books, there wasn't much reason to buy more.

That's changed, now. Because last Tuesday, we launched Graceless, book 4 of the Gift of Grace urban fantasy series, on Kickstarter.
Launching the Stream
When we set up the Kickstarter, we decided to set a goal of $500.00.

And I have to admit, when we hit the launch button, we had no idea what would happen. We were hoping to fund at $500.00, but this whole Kickstarter thing was new for us. So maybe we would, maybe we wouldn't.

During our first day, we did a live stream where we simply hung out and invited our friends to come with us. If you're interested, it's still up on our Facebook page.

This was a great deal of fun, but more interestingly was that as the day went on, something strange began to happen. The project started to evolve. And in the course of that stream, Esther and I became more and more flabbergasted with what was happening over on Kickstarter for our young adult novel.
Things Start to Get Awesome Weird for our Young Adult Novel
Because over on the Kickstarter page, our young adult fans–you–were showing the heck up.
By the time we took our intermission–five hours into day one of the launch, the page looked like this:
Obviously, whether or not we were going to make our $500.00 was out the window.
Kickstarter Takes Notice
As the day went on, the whole thing got more and more surreal for us. Because our young adult fans kept swarming in, and Kickstarter itself started to take notice. At around 2:00 pm–again, only eight hours after launch, we'd earned the "projects we love" sticker from KS. This placed us high on the recommendations list for people browsing the site.

And as we cracked above $2,000 in the afternoon–funding at 400% of our ask for this young adult novel, we broke onto the front page of Kickstarter's Publishing section.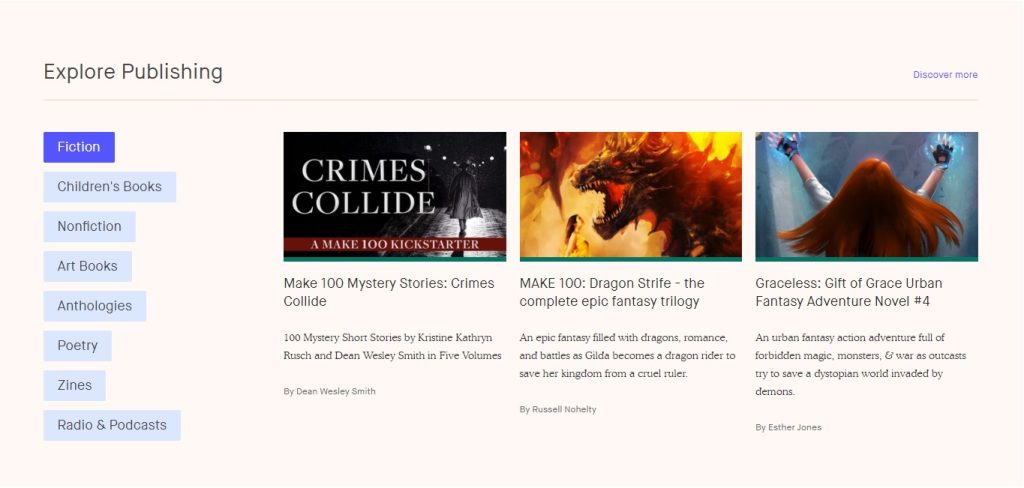 As of right now, the Kickstarter total is pushing $3,000 – 600% of our ask – and we've still got two weeks left to go. We're young adult authors on a mission, and we couldn't be more excited by the amount of support our fans have shown us.

If you haven't contributed yet, well, there's still time! Graceless will be on Kickstarter for another two weeks, so this is the time to join the fandom in bringing Graceless to the world.